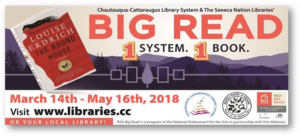 The Chautauqua Cattaraugus Library System and the Seneca Nation Libraries present…The Big Read 2018!
This year's title is Louise Erdrich's THE ROUND HOUSE
The Big Read will run March 14th – May 16th. The Barker Library Book Club will be meeting to discuss this novel on Saturday, April 21st at 2pm. All are welcome!
To reserve a copy of the book, call (716)672-8051, visit www.barkerlibrary.org or use OverDrive to download the e-book or audiobook.  Unlimited digital copies will be available beginning March 1st.
The public kick-off event with Louise Erdrich's sister, Liselotte Erdrich, will be held at Seneca-Allegheny Casino Event Center on Wednesday, March 14 from 6-8 PM. There will be food,  including traditional Native American cuisine, Native American song and dance and a talk by Lise Erdrich.
Please keep visiting our web site and http://www.libraries.cc to check the calendar of events throughout the system including one at SUNY Fredonia Reed Library Garden on April 13th, 10-11:30 AM.