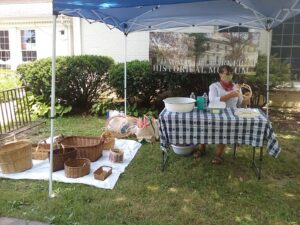 Come and see our demonstration tent each Saturday morning
, weather permitting, from 9:00-1:00 on the Barker Library lawn across from the Fredonia Farmers' Market! Each weekend we will feature a different craft or activity relating to local history, along with an information table and a rolling yard sale.
Our upcoming events include copper jewelry making on August 1, quilting on August 8, and stenciling on September 19.
Follow us on our new Facebook page as we highlight artifacts from our collection, examine the experiences of past Fredonians, and post news and updates about the museum!
Barker Museum Weekly Demonstration Events!