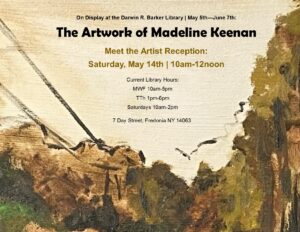 The Darwin R. Barker Library will exhibit the artwork of Madeline Keenan from Thursday, May 5th through Tuesday, June 7th during the Library's regular open hours. Patrons and visitors are invited to meet Keenan during a "Meet the Artist" reception on Saturday, May 14th from 10am-12noon.
The exhibit will display paintings from two series: Works from "You Can Only Find It Once It's Lost" explore nature and the environment. Keenan strove to freely interpret nature and experience the rawness of life. Works from "I Am" are a collection of self-portraits fused with images significant to the artist.
New York-based painter and ceramist Madeline Keenan has been working on her craft for upwards of 10 years. She studied at the State University of New York at Fredonia, where she graduated with a dual degree in Drawing & Painting and Ceramics. Her work strongly focuses on personal reflection and growing with the environment. After experimenting with abstraction, she now incorporates the loose and free forms she gained from that exploration into work that has a clear subject matter. Her work has begun to explore the relationship memories have on the growth of individuals.
To learn more about Keenan's work, visit the artist's website artbymadelinek.weebly.com or Instagram @artbymadelinek.
The Darwin R. Barker Library is a member of the Chautauqua-Cattaraugus County Library System (CCLS) giving patrons access to an abundance of materials. Current open hours are MWF 10am-5pm, TTh 1pm-6pm, and Sat 10am-2pm.
Meet and Greet with Artist Madeline Keenan