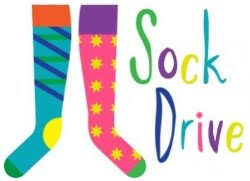 SOCKS are the most needed and least donated item of
clothing. YOU CAN HELP by donating NEW socks of all sizes, colors,
patterns, and varieties to benefit community members of
ALL ages!
Drop off Location: Northern Chautauqua Community Foundation
212 Lake Shore Dr. W, Dunkirk NY.Bins will set up in the lobby through October 30th.


Socktober Sock Drive at NCCF