The online exhibit, Recognizing Women's Right to Vote in New York State, is now available to view at New York Heritage Digital Collections!
This exhibit explores different aspects of the Women's Suffrage movement in New York, including influence from native cultures on the movement, the 1848 conventions in Seneca Falls and Rochester, suffragist tactics, such as civil disobedience and the insertion of the suffrage movement into popular culture, the anti-suffrage movement, and impact of World War 1, the New York State referendum in 1917, and legacy of the suffrage movement.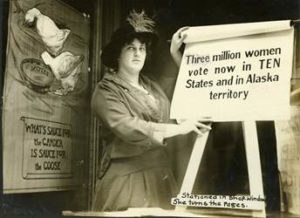 Stationed in shop-window, ca.1914. Anna Constable came up with an idea that drew crowds of people without having to speak. Standing in a shop window, she held up large placards with simple suffrage statements printed on each and held up the cards one by one. Police actually arrested her for "causing a crowd to collect and block the sidewalk," and suffragists publicized the arrest as well as the idea of the voiceless speeches.
Photo courtesy of Bryn Mawr College Library
Visit the exhibit at nyheritage.org/sufferage