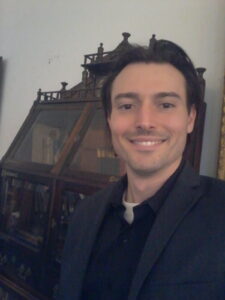 Please join us in welcoming Max Walters, the new curator for the Darwin R. Barker Historical Museum!
Max studied history, archaeology, and museum science at Central Michigan University, and went on to focus in museum collections and curatorial practices at Johns Hopkins. His prior museum work was at the Ukrainian American Museum of Detroit, the Historical Society of the Tonawandas, and Canterbury Shaker Village in New Hampshire.
He was originally introduced to the history of Western New York while doing research on the Erie Canal for the Historical Society of the Tonawandas, situated just north of Buffalo on the canal's western terminus.
"I pursed a career in museums as a way to apply my lifelong interest in history and create memorable exhibits. During school I was very taken by broad historical topics like industrialization and its impacts on culture and politics, but after my more recent work in museums I've become increasingly interesed in narrowing in on the stories of specific people and small communities. This approach reveals fascinating glimpses into life during different eras and it infuses a human element into the broad and abstract historical narratives we study in school."
Please feel free to stop in and meet Max during regular museum hours, Tuesdays, 4 – 8 pm and Saturdays, 1 – 4 pm. Watch for extended museum hours in the future. We will keep you posted!
New Historical Museum Curator!