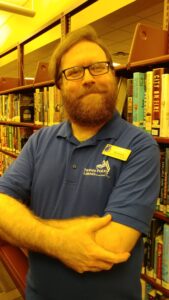 We would like to extend a warm welcome to our new Director Graham Tedesco-Blair.
Graham was raised in Buffalo, NY, and attended Canisius College and SUNY Buffalo. Since then, he has worked at the Wichita Falls Public Library in Wichita Falls, TX, and the Newark Public Library in Newark, NY. He also owned and operated White Paw Books & Curiosities with his wife Kay, and their dog Diana. In his free time, he enjoys bicycling, antiquing, and collecting comic books.
Stop by the Library to meet Graham soon!
Welcome New Library Director!